WOOD FIRE YOUNG-ARTIST-IN-RESIDENCE
WOOD-FIRE YOUNG
ARTIST-IN-RESIDENCE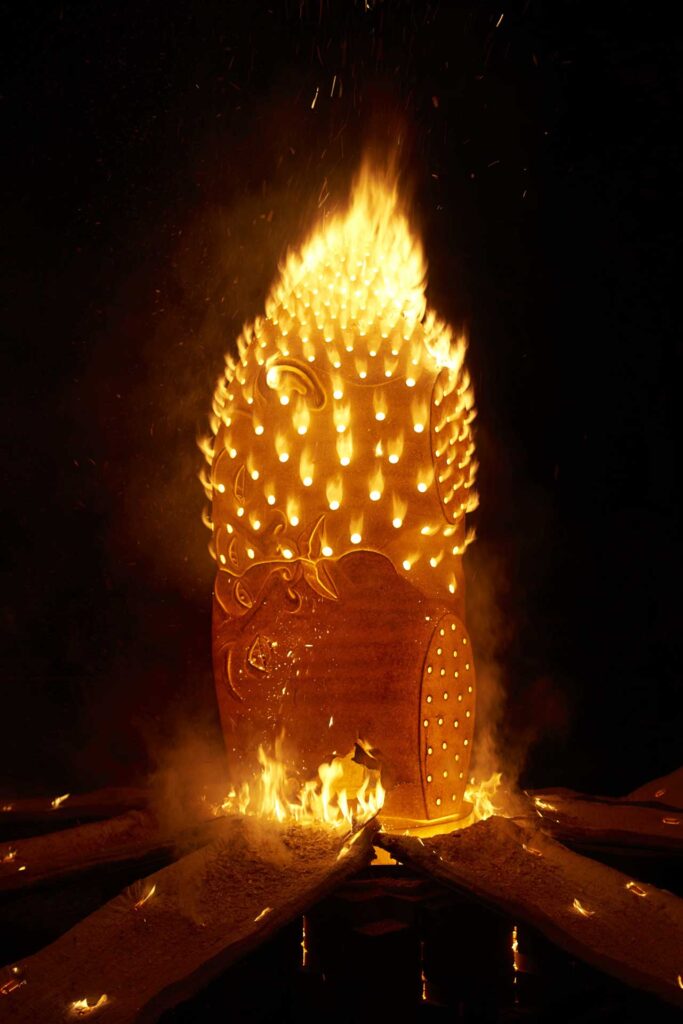 Start Date: January 2023
Position: Wood Fire Young-Artist-in-Residence
Contract: 3 -12 months
Working time: 20 hours a week
Receives in kind: Accommodation in a shared room and studio space at Guldagergaard – International Ceramic Research Center, honorarium towards own materials and firings (amount depends on the length of stay)
For more information and inquiries please contact: oliver@ceramic.dk
WHY
JOIN?
The Wood-fire Young-Artist-in-Residence position at Guldagergaard provides a unique opportunity to be part of a professional team that supports the development of technical and professional skills in ceramics. The focal point of this position is to give the Wood-fire Young-Artist-in-Residence the chance of gaining experience in atmospheric firings during working hours towards Guldagergaard, whilst also working on one's own ceramic projects at the studio space provided outside of these hours. It is a chance to enhance one's career prospects, to develop and exploit one's potential in the best possible way.
It is Guldagergaard's hope to encourage a strong understanding of ceramics through a variety of special projects that support research at Guldagergaard. The Wood Fire Young-Artist-in-Residence position is open for applications from graduating students, recent graduates and emerging young artists.
What do we expect of you?
This position is suitable for any graduating student, recent graduate, young professional with a basic level of technical knowledge in wood-firing and ceramics in general.
We are looking for a positive, adaptive person who is organized and has a service-orientated attitude. It is important that you can prioritize workloads, work both independently and as part of a team with the ability to take initiative with regards to the day to day up keep of the kiln yard. It is essential that you are able to temporarily live in Denmark for the duration of the position.
How will you work?
As part of the position you will be an integral part of the Guldagergaard team, with a focus directed to support Guldagergaard's Kiln Yard's activities. Occasionally you will also be asked to support other members of staff in all aspects of the day to day running of the centre.
You will be required to work 20 hours a week for Guldagergaard on flextime basis. The hours are to be worked within the opening hours of Guldagergaard, Monday – Friday 9:00 – 16:00. On occasion, it might be required for you to work some of these hours in the evening/night or on the weekend.
YOUR
ROLE
Assisting the Kiln Yard Technician with wood- and gas firings taking place at the kiln yard.
Maintaining and cleaning kiln yard communal areas (including mowing the lawn, raking leaves or shoveling snow, stacking wood, cleaning and maintaining kiln furniture and kilns).
Preparing wadding, wood-fire glazes and slips for the firings.
Working with the Kiln Yard Technician to maintain material stock levels required for the firings.
Assisting with repairing the kilns and other kiln yard equipment when needed.
Assisting with documenting the firings digitally, helping to form a research archive.
Assisting with working on Guldagergaard's wood-fire glaze archive.
Supporting staff members in the set up for public events such as exhibition openings, and preparing drinks or food for meetings held by the director.
HOW WILL YOU BENEFIT
FROM THIS POSITION?
This experience will be hugely beneficial to your practice with everything related to atmospheric firings, whilst also expanding your knowledge in ceramics in general. Guldagergaard is an international workplace, which stimulates innovation, originality and the desire to experiment. We support the development opportunities of each of our staff members through an educational environment, which promotes knowledge sharing, development and positive forms of collaboration.
Outside of your working hours for Guldagergaard you will have your own studio space to develop and explore your own ceramic practice, with full access to all the studio facilities available. Whilst your stay here you will have accommodation in a shared room in the manor house.
A small honorarium will be provided to go towards the use of materials and firings of all kilns in your own ceramic practice. The amount depends on the length of your stay. You are also able to participate in workshops provided by Guldagergaard at the student rate.
Since this is an unpaid position it is recommended that you apply for funding to support your personal costs whilst you are living here.
Current Young Wood-Fire Artist-in-Residence:
Ana Clara D'Amico, Argentina, 1st of January – 31st of March 2020
HOW TO
APPLY?
For your application you will need:
Cover letter explaining your suitability and reasons of applying for the position of Wood Fire Young-Artist-in-Residence
CV
5 images of recent work or link to your website/online portfolio
Recommendation
Your Skype address
The ceramic advisory board will review all applications. A Skype or phone call interview may be conducted by a staff member. For more information and inquiries please contact Kasia Misciur at kasia@ceramic.dk