THE APPLE HOUSE GALLERY
At the Apple House Gallery we give our artists the opportunity to show their final work in a professional arena.
THE APPLE HOUSE GALLERY
AT GULDAGERGAARD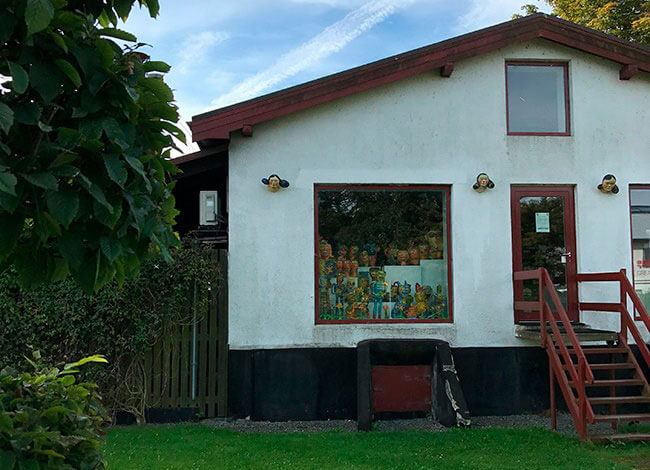 At Guldagergaard, we have our own gallery: The Apple House Gallery. When artists arrive at Guldagergaard they typically arrive with an idea they intend to materialize. With the Apple House Gallery, we give our resident artists the opportunity to show their final work in a professional, attractive arena.
The Apple House Gallery has a very special atmosphere. It is a showroom that feels modern and clear yet still contains a feel of the history of Guldagergaard. The natural light and hard wooden floors altogether create a fantastic scene for both solo and joint exhibitions.
The gallery also gives us the chance to offer artists the means to attract an interested audience, to invite the press, have photo shoots, and create a promotional space that is beneficial for both upcoming new talents and established artists.
Frequently, we invite you to visit our inspiring exhibitions where you can let yourself be excited and amazed by both national and international ceramic artists.
A PROFESSIONAL
ARENA FOR ALL ARTISTS
Guldagergaard had the old apple storage house renovated in 2009, and today it is an adaptable room that can fit many different styles of ceramic, expressions and visions. The Apple House Gallery is also where the ceramic studio collection is housed, and it is a space where resident artists can spend time researching and interacting with our comprehensive permanent collection.
The Apple House Gallery also constitutes an important part of our mission to promote and increase the knowledge of ceramic art, crafts, and design. The gallery sets the frame for creating a link between the artists and the audience. This provides a canvas for both upcoming young talents as well as established artists to communicate their personal perception and interpretation of the world around them.
The exhibitions in the Apple House Gallery often spread out into the sculpture park where all sorts of artists, solo and joined, can arrange performances, happenings and challenging art events. Guldagergaard believes that art and experiences with art can leave you with new perspectives on the world, and that art is the bridge that can combine knowledge and acknowledgment with experience and joy.
The Apple House Gallery also provides a contemporary, beautiful space to have photo sessions, and where artists can have their work photographed. All of our Artists-in-Residents will, therefore, have the possibility to see how their final pieces will work in a professional arena. Guldagergaard can also assist you in finding a professional photographer, who knows how ceramics work on film but will let you be in charge of the photo shoot.