KILNS
Guldagergaard has a unique kiln yard with the largest selection of kilns in Northern Europe.
THE LARGEST VARIETY
OF KILNS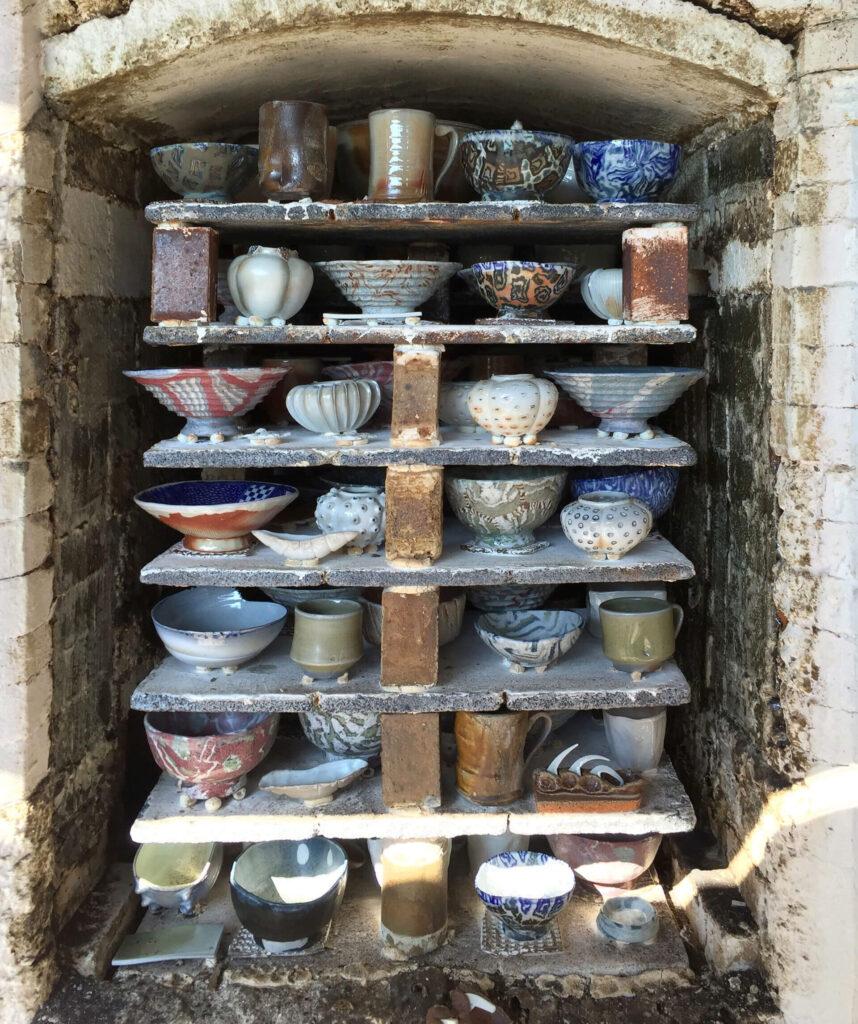 If there is something that can change the whole concept of your ceramics, it might be the kiln that you use. This is something we know at Guldagergaard – our kiln yard is unique in that we have the largest variety of kilns available at one facility in Europe, and we continuously enhance the yard with new kilns. We also have a place for pit-firing.
Guldagergaard has a wonderful and often bustling kiln yard full of activities. We offer both glazing and firing programs, and you also have the opportunity to join our group firings or wood-firing symposia, which will always be announced on the website. Educational institutions, artists, and scholars often come to Guldagergaard to take advantage of kilns, which is not available in their own studios. Our kiln yard is always in motion – we strive to always develop the kilns and build new ones to keep the kiln yard updated.
At Guldagergaard you may find wood-fired kilns, a selection of gas kilns and electric kilns.
Beneath you will find a list of all Guldagergaard's kilns. For questions concerning our kilns, please contact Oliver: oliver@ceramic.dk
ELECTRIC
KILNS
LILLE
16 LITERS
Ø29 X H23 CM
NUSKU 2 & BO
40 LITERS
Ø40 X H34 CM
BAM BAM
60 LITERS
Ø41 X H46 CM
SAGA
150 LITERS
Ø58 X H57 CM
GIBIL & SVAROG
100 LITERS
W42 X L50 X H50 CM
VULCAN
330 LITERS
W57 X L73 X H79 CM
GOLDEN BRIGIT
1000 LITERS
W80 X L110 X H103
GAS
KILNS
CON AIR
24 LITERS
Ø31 X H31 CM
PEKKA
300 LITERS
Ø70 X H80 (CYLINDER)
WOODFIRE
KILNS
BOURRY BOX
BY ROBERT SANDERSON
425 LITERS
W170 X L50 X H50 CM
SODA
500 LITERS
W50 X L90 X H111 CM
BABYGAMA
ANAGAMA KILN BY ANDRES AILLIK
1,5 M3
W115 X L218 X H92 CM
EMBLA
CROSS DRAUGHT BY FRED OLSEN
3 M3
W200 X L210 X H125 CM
SPEEDY
BY HENDRIK SCHÖNE
215 LITERS
W55 X L40 X H98 CM
SUPER E
BY FRED OLSEN
370 LITERS
W71 X L58 X H90 CM